Karl Gebhardt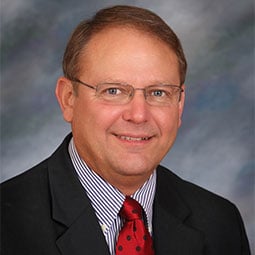 Karl R. Gebhardt's career spans over 45 years in business, public policy, and government relations in both the public and private sector.
He currently serves as Executive Director of the Ohio Lake Erie Commission, and as Deputy Director at the Ohio EPA. Prior to his current position, he was Deputy Director at the Ohio Department of Natural Resources.
Karl's private sector experience includes 12 years as owner of Gebhardt & Associates, a natural resource management, public policy-consulting and community relations firm. His firm represented a broad base of clients interested in natural resource conservation, land use, energy, and agriculture. He also provided representation to clients with interests in domestic and international economic development, and participated in two trade missions to Israel.
Karl served in several management positions at the Ohio Farm Bureau Federation, where he advised on policy issues relating to local government, land use, and natural resources.
Karl has been active in a variety of professional organizations and advisory councils including Commissioner, Great Lakes Commission, International Joint Commission Water Quality Board, The Ohio State University Rural-Urban Policy Advisory Council, Franklin University Public Administration Advisory Board, Hocking College Foundation Board, Big Walnut Economic Development Committee, The Ohio Chamber of Commerce Environmental Advisory Committee, University of Findlay's Center of Excellence for Environmental Management National Advisory Board, the Ohio Township Association's Coalition of Large Urban Township Board, and the Delaware County Republican Central and Executive Committee.
Gebhardt earned an M.A. in Public Policy and Management from The Ohio State University, a B.S. in Business Administration from Franklin University, and an A.A.S. in Natural Resources from Hocking College.
Karl and his wife, Susan, of 42 years are the parents of two grown daughters, and the proud grandparents of five grandsons and a granddaughter. They are members of Heritage Christian Church. Karl enjoys pontooning on Hoover Reservoir, hunting, fishing, golfing and nature photography.