Massage Therapy Certificate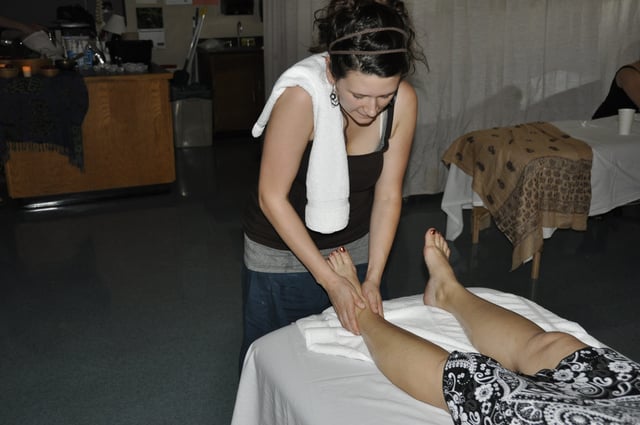 Key Program Features:

Real-world experience, small class sizes, hands-on learning, professional opportunities, and an engaging faculty.
Hocking College's Massage Therapy certificate program is a two academic year part-time evening program.
Upon completion of this well-rounded program, students will possess a solid foundation in the understanding of human anatomy and physiology, utilize functional assessments of the musculo-skeletal system and perform a wide variety of massage therapy techniques.
Students will be able to apply these skills for circulatory enhancement, pain management, stress reduction, general relaxation and to treat a broad array of musculo-skeletal conditions.
Our Massage Therapy Certificate program, while not leading to a degree, complies with the Ohio State Medical Board requirements for licensure after passing the required qualifying examination. This evening program includes all of the general massage and clinically-based massage courses. While the spa therapy courses are not included in the certificate program, any or all of them may be added to the certificate course of study as per the interest of the student. Like the degree program, the certificate program begins each spring semester and extends for three consecutive semesters, including summer. For more information on this option, please look under Short Term Certificates, on the program page.

---
The following outcomes are skills, behaviors, and attitudes cultivated in students seeking the Associate of Technical Studies in Massage Therapy:
Assess patients in accordance with the therapist's scope of practice in order to: 1) determine the appropriateness of massage therapy as a treatment option for the patient's condition. 2) Determines the underlying anatomical or physiological dysfunction in order to develop the most suitable treatment methods.

Plans and performs massage therapy treatments appropriate for client's individual needs.

Demonstrates appropriate documentation of patient care.

Demonstrates safety and hygienic practices that are conducive to maintaining the health of the client/patient and Massage Therapist.


Build Out Your Massage Therapy Program
Massage Therapy Degree Program: The Associate of Technical Studies in Massage Therapy program provides a comprehensive course of study in general massage, clinically-based massage procedures and spa therapy massage and modalities.
Accreditation
Massage Therapy is one the fastest growing areas in the health field today, and Ohio is the first state to license this profession. Massage Therapy is a legally defined term relating to the application of manual treatment for musculoskeletal conditions or general stress management, specifically from a massage therapist licensed by the Ohio State Medical Board. To become licensed in Ohio, you must successfully complete an approved 750-hour professional massage therapy program and pass the Ohio State Medical Board Exam.