Physical Therapist Assistant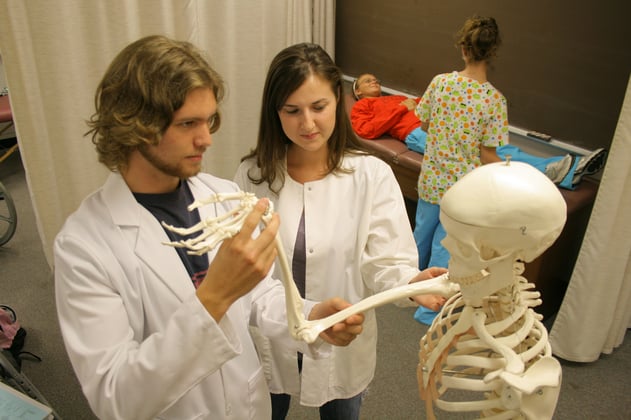 Key Program Features:

Real-world experience, small class sizes, hands-on learning, professional opportunities, and an engaging faculty.
Physical therapist assistants are technically educated healthcare providers who work under the supervision of a licensed physical therapist to restore function when disease or injury results in pain and limited movement abilities. Physical therapy intervention can also prevent further injury. When a patient seeks physical therapy services, the physical therapist performs an initial evaluation and develops a plan of care. The physical therapist assistant carries out the plan of care and reports the patient's response to the supervising physical therapist.
---
The following outcomes are skills, behaviors, and attitudes cultivated in students seeking the Associate of Applied Science in Physical Therapist Assistant:
Within the scope of practice of the physical therapist assistant, safely and effectively collect patient data and perform interventions identified in the plan of care established by the supervising physical therapist.

Complete accurate and timely documentation that follows the guidelines of state practice acts, the clinical setting, and other regulatory agencies.

Effectively manage daily operations of physical therapy services including scheduling, billing/reimbursement and quality assurance.

Implement individualized patient intervention(s) established by the physical therapist including modifications based on patient status and plan of care reporting changes to the supervising physical therapist.

Under the direction and supervision of the physical therapist, participate in coordinating continuity of care with patient, caregivers and members of the health care team concerning education, discharge planning and follow up care.
Responsibilities of a physical therapist assistant may include, but are not limited to the following:
Assisting the physical therapist during the evaluation;

Performing data collection (test and measurement) techniques;

Administering intervention treatments utilizing heat, cold, ultrasound, electrical current, water, light, massage, exercise programs, and balance activities,

Fitting and instructing patients in the use of assistive devices such as crutches, walkers, canes and wheelchairs;

Instructing patients in activities of daily living;

Documenting relevant aspects of patient care;

Maintaining and setting up treatment equipment;

Maintaining department inventories;


Participating in quality assurance activities;

Scheduling patients; and,

Performing as a manager of a rehabilitative services department.
The Physical Therapist Assistant program consists of a year of general courses followed by a year of technical course work and clinical experiences.
Accreditation
Hocking College Physical Therapist Assistant program at Hocking College is accredited by the Commission on Accreditation in Physical Therapy Education (CAPTE), 1111 North Fairfax Street, Alexandria, Virginia 22314; telephone: 703-706-3245; email: accreditation@apta.org; website: http://www.capteonline.org.
---

The following changes have been implemented effective May 5, 2014.
Students desiring to be selected into the clinical year of the Physical Therapist Assistant (PTA) Program (semesters three, four and five) beginning autumn 2016 will:
Apply to the Hocking College Physical Therapist Assistant program (admission to the first year – semesters one and two – of the PTA program). Once your file is complete, you will be considered for admission to the 2nd year of the program. Application. Students must have a completed file by June 1 of each year to be considered for August admission.
Submit an official high school transcript or GED.
Students with transferable college credit will request that an official transcript be sent directly to the Office of the Registrar, JL 253 3301 Hocking Parkway, Nelsonville, Ohio 45764.
Complete 50 observation/volunteer hours. Twenty (20) hours must be completed in an acute care setting, and thirty (30) hours must be completed in a non-acute setting such as a clinic, rehab or long-term care center OR the equivalent in full-time or part-time employment in a physical therapy department. Observation hours must be performed no more than two years prior to the date of application to Hocking College. Completion of these hours must be submitted on the Hocking College observation log form found on the Hocking College website.
Obtain two positive recommendations from the Physical Therapist (PT) or Physical Therapist Assistant (PTA), not related to the applicant, under whom you observed or were employed.
Recommendations must be completed on the Hocking College PTA recommendation form found on the Hocking College website.
Complete all semester one and semester two course work with a grade of "C" or higher. Students may take a class no more than two times to earn the "C" or higher grade. If the student does not achieve the required grade in two attempts they are not eligible for the PTA program.
Obtain an overall minimum grade point average (GPA) of 2.5. This applies to courses completed at Hocking College as well as credits transferred from another institution.
Complete the TEAS V exam and submit the score. The test score must be dated within the past 18 months to be eligible for selection into the clinical year of the program. Information related to the TEAS exam schedule will be available on the program's website.
Applicants will be rank ordered and admitted based upon their grade point average and TEAS score using the following calculations:

Student GPA/4.0= % x 100 — For example: GPA 3.2/4.0= .80 x 100 = 80 points
TEAS scores: Adjusted Individual Subtest Score in each category added together (Reading + Math + Science + English)/400 = % x 100 — For example: Reading 76 + Math 76 + Science 60 + English 80 = 292/400 = .73 x 100 = 73
Total GPA points 80
TEAS points 73
It is the applicant's responsibility to ensure that all requirements have been met and verified with their advisor. Selection of the students will be completed in early June for admission into the autumn semester.
Applicants will be notified of selection via US Mail. Please do not call for information regarding the selection results. Those not selected will be rank ordered on an alternate list.
If a selected student declines their seat before July 1 the first student on the alternate list will be offered that seat. The process will continue until all seats are filled. Students who remain on the alternate list after July 1 along with other applicants, for the next year. Alternate list placement does not guarantee a seat for the following year.
Hocking College advisors are available to help you; answer questions about the selective admissions process; develop a student educational plan to meet your goals; and assist with general education course registration. To schedule an advising appointment, contact the PTA Program Director at 740.753.6404. We look forward to assisting you with your career goals.