Health Information Management Program Description
The Medical Records/Health Information Management program will prepare you for an exciting career as a Certified Associate in Health Information Management Systems (CAHIMS) in 2 years. A Health Information Technician is skilled in health information management systems and procedures, has completed an academic program and has satisfactorily passed a national certification exam / CAHIM. A Health Information Technician uses computer applications to assemble, analyze, abstract medical records and they often specialize in coding diagnoses and procedures for reimbursement and research.
Health Information Technicians may also perform data retrieval for quality assurance activities, protect confidential patient information and assist physicians and other health care personnel with appropriate medical record documentation practices.
Additionally, students who take Health Infromation Management will be eligible to sit for CSBC, CEHRS, and CAHIMS certifications. These certifications are accredited by National Healthcareer Association (NHR) and Health Information Management System Society (HIMSS).
Hocking College offers all-inclusive pricing and works with students to assure they have complete college funding, including financial aid, before they start classes. Please reference the course curriculum tab for program costs.
All-inclusive pricing includes the following:
PER SEMESTER
$300......Learning Fee
$20........Health Center Services
$75........Career Center Services
OPTIONAL
$53......Parking
$275....Smart Start*
Pricing for housing and meal plans can be found here.
*Recommended for all first-year college students.
The Demand for Health Information Management Graduates Continues to Increase
The Medical Records/Health Information Management program prepares you for positions ranked by health care facilities as among the five positions in greatest demand.
Technicians are employed by hospitals, ambulatory care centers, nursing homes, mental health agencies, substance abuse agencies, hospices, consulting firms, insurance companies, large physician group practices, veterinary hospitals, government facilities, and federal and state prisons.
Health information management technicians may work from home as coders, medical editors, claims analysts, medical billers or independent contractors working as consultants for nursing facilities, large group practices, lawyers and small rural hospitals.
Student Learning Outcomes (SLOs) are statements of what a student will be able to do when they have completed a program. They represent the knowledge and skills a program has determined are most important for students to gain from that program and include both the Success Skills (institutional outcomes) and Program Outcomes. SLOs are specific and measurable so the program can accurately assess the degree to which students have achieved each outcome, and they align with college and institution mission and values. Data on the achievement of SLOs is used to make improvements in the program and increase student success.
Success Skills
CE

- Communicates Effectively
PA

- Maintains Professional Skills and Attitudes
CT

- Demonstrates Learning Critical Thinking, and Problem Solving Skills
ET

- Maintains a Code of Ethics
HR

- Practices Human Relations Skills
MS

- Demonstrates Math Skills
GA

-

Demonstrates

Community,

Cultural

and

Global Awareness
IT

- Implements Career-Appropriate Technology
To learn more about each of these, click here.
Program Outcomes
The following outcomes are skills, behaviors, and attitudes cultivated in students seeking the Associate of Applied Science in Medical Records/Health Information Management:
Applies codes accurately using current and appropriate technology;

Exhibits skills that promote quality improvement;

Exhibits skills to insure the security of Personal Health Information (PHI);

Utilizes current technology efficiently to manage and interpret data; and

Utilizes guidelines and regulations to ensure compliance with internal and external policies.
Retention Rates
Retention rates are determined by the office of Institutional Research utilizing the following criteria:
All registered fall/autumn students with registration status for the following fall/autumn.
Excludes special populations - College Credit Plus, Non Degree, Online Military and University Center.
Potential

for upcoming fall/autumn excludes graduates from that fall/autumn, spring and summer terms.
| | |
| --- | --- |
| Academic Year | Retention Rate |
| 2016 - 2017 | 36% |
| 2015 - 2016 | 57% |
| 2014 - 2015 | 34% |
Graduation Rates
Graduation rates are determined by the office of Institutional Research. To ensure appropriate time for data collection, this report will be run and posted annually in the last week of September for the previous academic year. It should be noted that annual graduation rates may change as students continue to graduate. The following criteria will be utilized for the calculation of graduation rates:
Overall Program Completion Rate is defined as a percentage of the ratio:

All graduates of the program
_________________________________________________________________
All students with the program in their history of programs of study



For the purposes of reporting, the program completion rates are aggregated by academic year of entry.
A student is considered to have completed or graduated from a program or certificate by virtue of having been awarded the degree or certificate.
A student is considered to be undertaking activity in a program of study for the duration of time that they are in an active status in a program or certificate. This is defined by having a Program of Study with a status of 'A' during the duration of time they are taking coursework. Should a student move in and out of active status in a program of study while continuing to take coursework, we only take into account the student's activity while the program has an active status for that particular program of study.
| | |
| --- | --- |
| Academic Year | Graduation Rate |
| 2016 - 2017 | 12.96% |
| 2015 - 2016 | 12.24% |
| 2014 - 2015 | 10.87% |
Accreditation Affiliate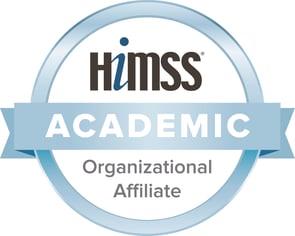 Healthcare Information and Management Systems Society (HIMSS)
33 West Monroe Street, Suite 1700, Chicago, IL 60603-5616
Phone: 312.664.4467 | Fax: 312.664.6143
Related Blogs