Leisure Learning Classes
Hocking College offers a variety of leisure learning classes that are focused on creating a rich, creative environment that inspires life-long learning. Classes are hands-on, fun and educational! Whether you are continuing your education, learning a new skill, or investigating a new hobby, Leisure Learning offers something for everyone!
These affordable non-credit classes are held in various locations both on the Hocking College campus and in the surrounding community. Anyone is welcome — you do not have to be a Hocking College student or employee to participate.
Are you interested in teaching a leisure learning class? We are always looking for new classes. If you have a skill or knowledge you would like to share, contact Michelle Robinson, Development Officer by phone at
740.753.7132 or by email at leisurelearning@hocking.edu.
---
Spring 2018 Classes
The English Reformation
Wednesday, March 21

• 6:30

p.m. – 7:30 p.m.
Wednesday, March 28 •

6:30

p.m. – 7:30 p.m.
Wednesday, April 4 •

6:30

p.m. – 7:30 p.m.
Wednesday, April 11 • 6:30 p.m. - 7:30 p.m.
Wednesday, April 18 • 6:30 p.m. - 7:30 p.m.
Wednesday, April 25 • 6:30 p.m. - 7:30 p.m.
Wednesday, May 2 • 6:30 p.m. - 7:30 p.m.
Wednesday, May 9 • 6:30 p.m. - 7:30 p.m.
Location: Hocking College, 3301 Hocking Parkway, Nelsonville, OH 45764
Cost: $65
Instructor: Kathy Simcox
Description: Author and Historian Kathy Simcox takes students through the history of the English Reformation from the War of the Roses and Early Tudor Dynasty through Elizabeth I and Mary, Queen of Scots. All eight classes and materials are included.
---
Summer 2018 Classes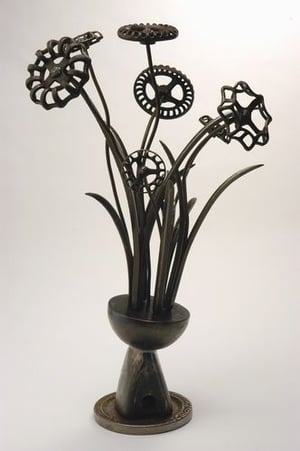 Introduction to Welding
Location: Hocking College Energy Institute (30140 Iles Rd, Logan, OH 43138)
Cost: $75
Description: The Hocking College Welding Lab is offering a 4 hr. beginners Art Welding 'MIG' class for the hobbyist or artist who wants to learn welding as a craft.
This class will introduce the beginner to 'MIG', GMAW welding. During this class, safety is taught and stressed throughout the class. The student will learn how to safely set up and start the welding machine, choose the correct gas, wire, voltage, and wire speed for the application. Students will also have opportunity to learn techniques on a Lincoln Electric virtual welding simulation machine. The class is designed for the hobbyist or artist and each student will have the opportunity to complete two small project pieces. All tools and equipment will be provided. Register now for this innovative class in beginning welding techniques. Class size is limited to 15 and must have a minimum of 8 to run. Students must be 18 years or older.
---
Summer Horsemanship Lessons
Session 1: June (3 weeks)

Session 2: July (3 weeks)
Location: The Barn at Hocking College
Cost: $60 (Ages 17 & under) • $105 (Ages 18 & over)
Description:

Spend your summer on horseback! Horsemanship lessons on grooming and bathing, tack maintenance, horse management, and horseback riding for all ages. This is the chance if you have always wanted to learn how to care for and ride horses, or if you are looking to increase your knowledge and develop your skills.