At Hocking College, We Support Veterans and their Families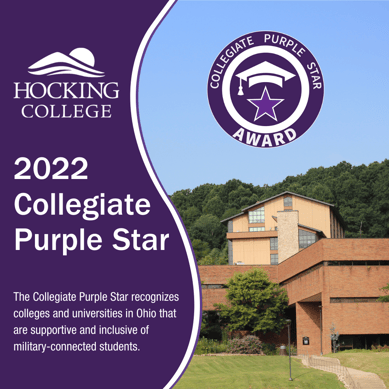 Hocking College is committed to providing high-quality academic and student support services to veterans, active duty service members, reservists, National Guard members and military families.
We ensure our support processes align with and adhere to all applicable federal and state laws, Department of Defense Instructions, Department of Education guidelines as well as Veterans Administration policies and procedures.
We subscribe to guidance contained within the Principles of Excellence and the 8 Keys to Veterans' Success and strive to ensure veterans, military members and dependents earned education benefits are administered in a manner which provides the highest return on investment possible.
Hocking College is regionally accredited through The Higher Learning Commission and is a participating institution under the Department of Defense Voluntary Education Partnership Memorandum of Understanding. This enables our veterans and military affiliated students to select from multiple service connected funding sources.
Military and Veteran Services
Hocking College Veteran and Military Student Services helps you achieve your goals in higher education by:
Providing educational benefits counseling to help you maximize funding sources linked to your military service.

Providing information and assistance in filing your VA Education claim, certifying hours of enrollment and processing GI Bill® and VA benefit payments.

Evaluating your military training and experience for transfer credit purposes and providing information on sources of transfer credit to include

Joint Services Transcript (JST), Community College of the Air Force Transcript (CCAF),

College Level Examination Program (CLEP) and

Prior Learning Assessment (PLA).

The Military Guide (www.acenet.edu/militaryguide) contains ACE credit recommendations for formal courses and occupations offered by the services as individual exhibits. The Guide is a tool used synchronously with the JST to assists all users identify, evaluate, and award college credit for military training.

Assisting you in obtaining tuition assistance from your branch of service. (Current service members only.)

Connecting you with Hocking College and community student support services.

Providing a place to unwind and connect with fellow veterans and military members. (Veterans Lounge - JL 261B)

Helping veterans and service members resolve barriers preventing them from obtaining their education goal.

Providing priority registration periods for veterans and service members.
Policies:
To request any of these policies Email Stephen Powell Powells25816@hocking.edu
Prohibition against Inducement, Commission, and High Pressure tactics
Dependent Veteran Scholarship
Military Tuition Assistance Refunds
Transfer and Articulation
Veterans benefits Transaction Act


Hocking College has been awarded the Collegiate Purple Star by the state of Ohio. In order to receive this award Hocking College had to